Golfing in Traverse City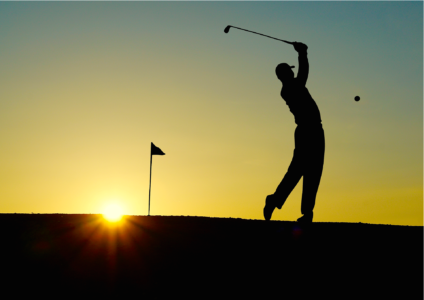 Traverse City is a perfect destination for your summer golf trip, home to many renowned golf courses. In fact, Traverse City was rated as the #1 golf trip destination in America by Golf Advisor! Two were designed by Arnold Palmer – Manitou Passage and The Legend, which was named one of the top four resort courses in the United States by Golf Magazine. For veteran players looking for a challenge, check out Gary Player's The Wolverine. In total, there are over 30 courses in the area. No matter your skill level or preference, Traverse City has the golf course for you.
When you stay at Oaks Resort, you can set an early tee time, get lunch or dinner at one of the great downtown Traverse City restaurants, and be back to enjoy the beautiful Spider Lake sunsets. Oaks Resort accommodates groups of all sizes. Traveling with a small group? Rent one of our three cabins. Getting a large group together? The main house is perfect for parties of 10-12.
Fishing on Spider Lake
Struggling to find the perfect Father's Day gift? Instead of another polo shirt, what about a fishing excursion on Spider Lake, Traverse City? Oaks Resort is the perfect destination for fishing trips. The lake is 459 acres big, and has a huge variety of fish, including Black Crappie, Bluegill, Largemouth Bass, Northern Pike, Rock Bass, Smallmouth Bass, Sunfish and Yellow Perch.
Don't have a fishing boat? Don't worry! Renting the main house gives you access to our pontoon/fishing boat, big enough to fit the whole family. We also have docks for your own boat.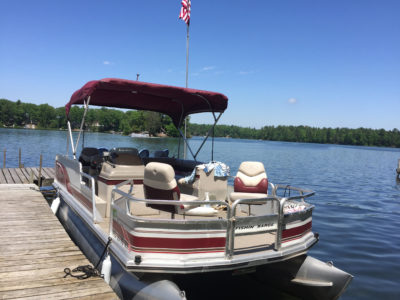 Once you're done catching for the day, we have plenty of patio space outside to clean your fish. We also have a charcoal grill for you to prepare your fish.
Need supplies? No problem! Stop by The Northern Angler downtown Traverse City, a short 15 minute drive from the Oaks Resort. Be sure to print out the lake inventory map before your trip.
Spider Lake is about a four hour drive from the Metro Detroit area.